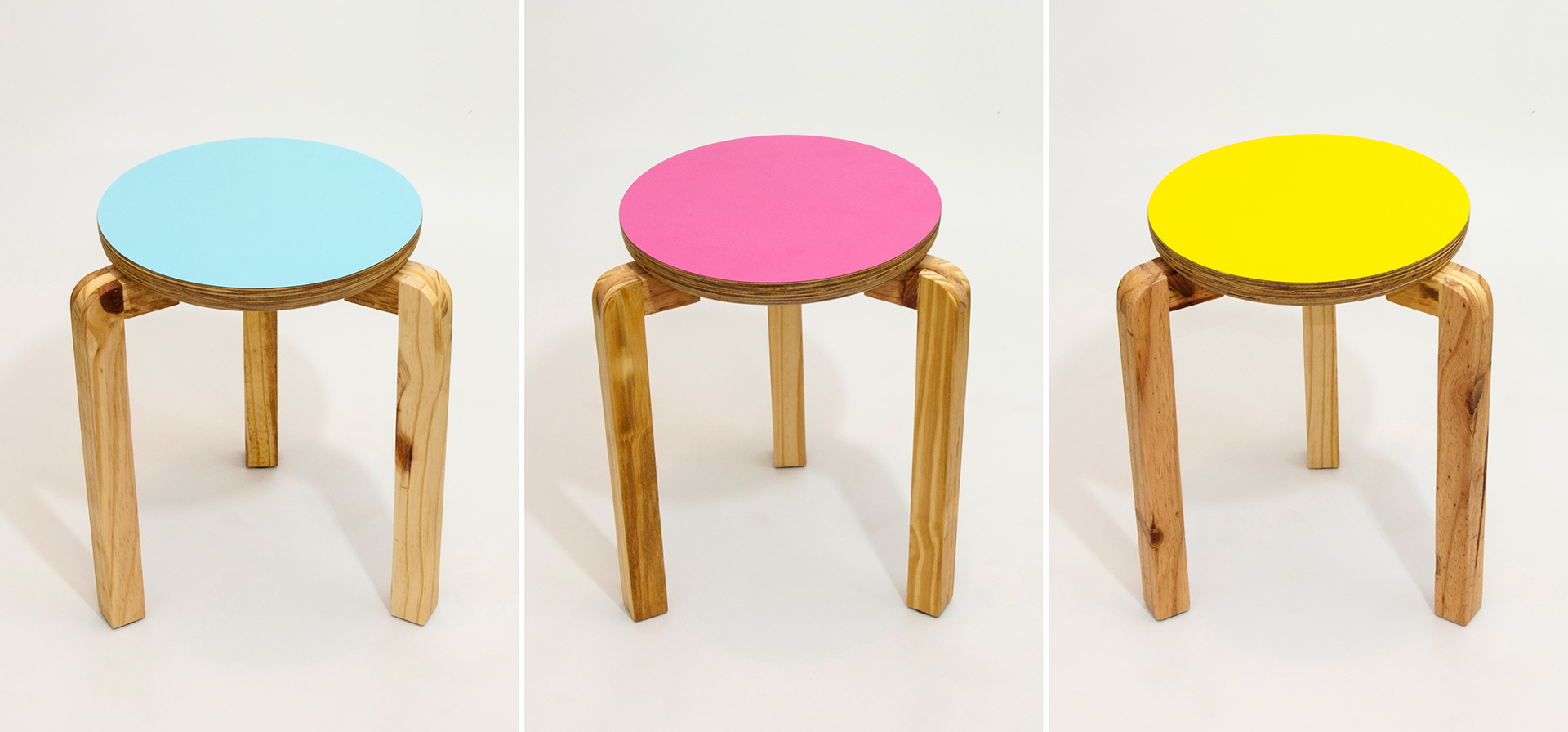 Stools have always allured me. They're rich with personality, fit anywhere and can play many roles (sitting, support, elevating, etc.) and, when well designed, become iconic pieces. Three-legged stools in particular are my favorites
So I set myself to create a stool that's fun, cheap and easy to produce and paid a homage to my favorites: Lina Bo Bardi's Girafa and Alvar Aalto's Stool 60. So I wondered: "what if they had a torrid love affair during a starry Carnaval night, what would their kid look like?" And Geraldo was born.
Banquinhos sempre me encantaram. Eles tem personalidade forte e marcante, cabem em qualquer lugar, são multifuncionais e quado bem projetados tornam-se peças de designn icônicas.
Então me determinei a criar um banco divertidoe de fácil produção, prestando homenagem aos meus dois favoritos: o Girafa da Lina Bo Bardi e o A60 do Alvar Aalto. Imaginei: "como seria o filho desse dois depois de um caso de amor tórrido no Carnaval?". Assim nasceu Geraldo.
The legs done in pinus, with their handmade joints, are clearly inherited from  its mom, while the seat in laminated plywood looks just like its father. Just like Phillipe Starck's Masters Chair, the idea was to create and amalgamation between the elements, aiming to reach a product that respects its predecessors but is done for the present.
As pernas em pinus, com trabalho de encaixe aparente são herdadas da mãe, enquanto o tampo em compensado com acabamento em formica é claramente influência do pai. Como a cadeira masters, a ideia é criar uma amálgama entre os elementos inspiradores, com um resultado que mostre respeito pelo passado mas direcionado para o futuro.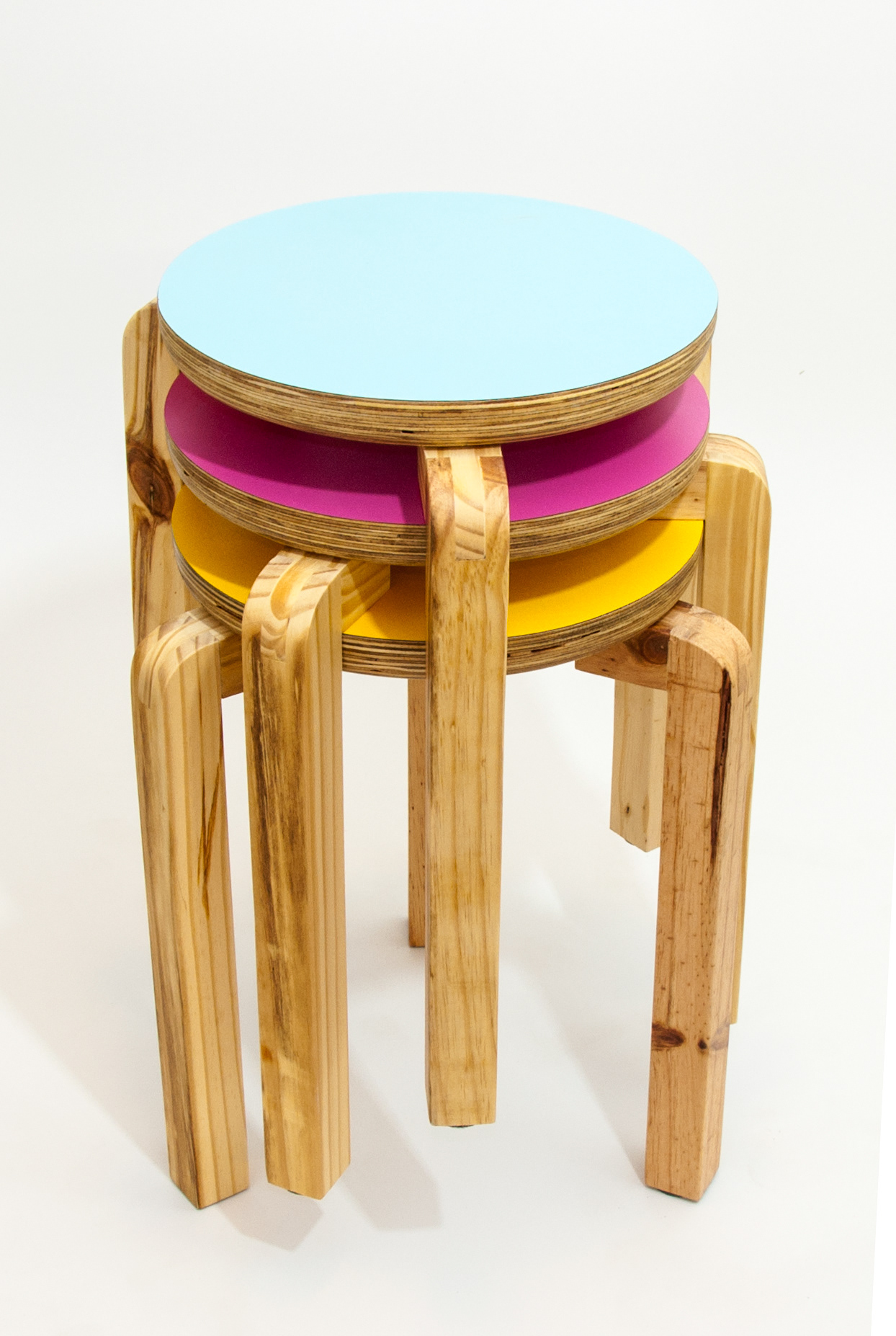 The color pallet is a reference to my formation as architect and designer. Unlike the designers from Bauhaus, whose basic colors were red, blue and yellow, my generation was among the first to print the works we had created on the computer, making this weird transition from bits to paper. So nothing represents that better than using CMYK colors on the stools.
As cores foram selecionadas para representar o momento em que eu cresci. Diferente dos criativos da Bauhaus que usavam vermelho, azul e amarelo como cores básicas, a minha geração foi a primeira a imprimir trabalhos coloridos através do computador, fazendo a transição entre virtual e real. Sendo assim, nada melhor do que o esquema CMYK para compor a paleta de cores.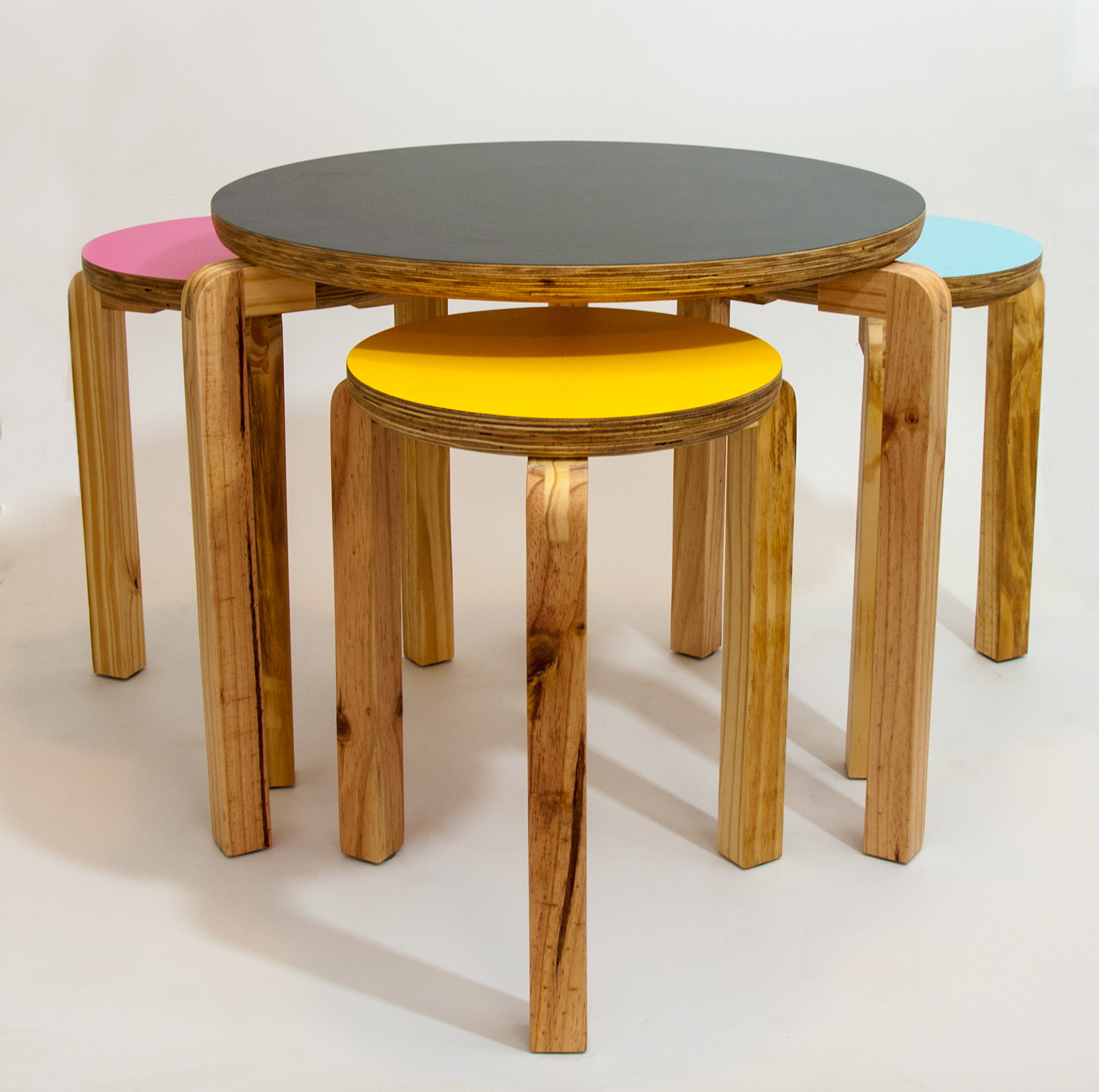 The first batch of stools was created in old pinus from discarded pallets and the seat is done with plywood scraps recompressed, making Geraldo very much cost effective.
Nessa primeira leva de produção, a ideia foi usar paleta descartados como material para as pernas e sobras de compensado reprensado para o assento do banco, tornando o Geraldo um produto bastante e acessível.